Background Information
The Southeastern portion of Harris County serves a growing amount of commuter, residential, and industrial traffic. The industrial uses in the subarea contribute to a high-level of truck traffic and safety concerns, which also impacts residential and commercial areas.
This study will identify and propose solutions to address congestion and safety, multimodal transportation needs in the subregion with the involvement of stakeholders and the public. The scenarios will integrate land use, transportation, and economic impacts while meeting H-GAC's goals for mobility, safety, and enabling economic opportunity.
A main goal of the study will be to facilitate the flow of truck traffic while providing mobility solutions for residents.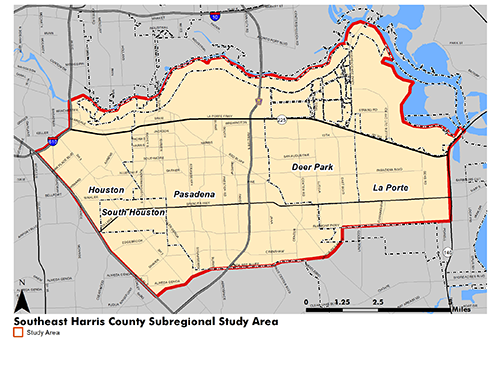 Click/Tap to view a full-size copy of the map.
The study area is in the eastern portion of Harris County; the western border of the study area is IH 610/IH 45 South, the eastern border Galveston Bay, the northern border Buffalo Bayou, and the southern border is Genoa Red Bluff. The study area includes the cities of Houston, South Houston, Pasadena, Deer Park, and La Porte. SH 225 serves as a primary access route to Port Houston's Barbours Cut Container Terminal and has a high level of truck traffic.
The Study Team will coordinate with the ongoing TxDOT SH 225 Planning and Environmental Linkage Study.
Project Schedule
There are two phases to the study:
Phase 1 consists of inventorying existing and future transportation and land use development strategies to inform initial public outreach and stakeholder coordination. This outreach and coordination will solicit and document concerns and opportunities in the study area.
Phase 2 activities will utilize the input from Phase 1 to develop and evaluate specific mobility and safety alternatives that complement land use strategies, address concerns, and realize opportunities identified in Phase 1.
Note: There will be some overlap between Phase 1 and Phase 2 tasks.


Click/Tap to view a full-size copy of the map.
About Southeast Harris County