Study Summary and Goals
The Study recommends a number of key elements focused on overall neighborhood structure, connectivity and circulation, pedestrian and bicycle amenities, parks and open space, land use and urban form and design guidelines.
The following steps should be taken by the Northside Management District, City and area stakeholders in the near (0-5 years) and medium (5-10 years) term in order to put the Study into action and ensure positive momentum and neighborhood change.
Create a stronger pedestrian connection at the Burnett/North Main Tunnel while implementing "Parkway" upgrades to Burnett Street
Support efforts to ensure existing businesses and residents benefit from the new transit service
Create "Festival Streets" at Fulton and Quitman; identify the best location for a "Better Block" Project
Create streetscape improvements along the east-west Hogan/Lorraine corridor
Establish plazas and small open spaces within publicly owned METRO remnant properties along the rail corridor
Establish a hike and bike trail along the Little White Oak Bayou, including connections into the neighborhood
Download the Northside Livable Centers Study.
Study Area Map
The study area includes the Northside area in the City of Houston, directly north of Downtown Houston, bounded approximately by 1-10, 1-45, Patton Street, and Elysian Street.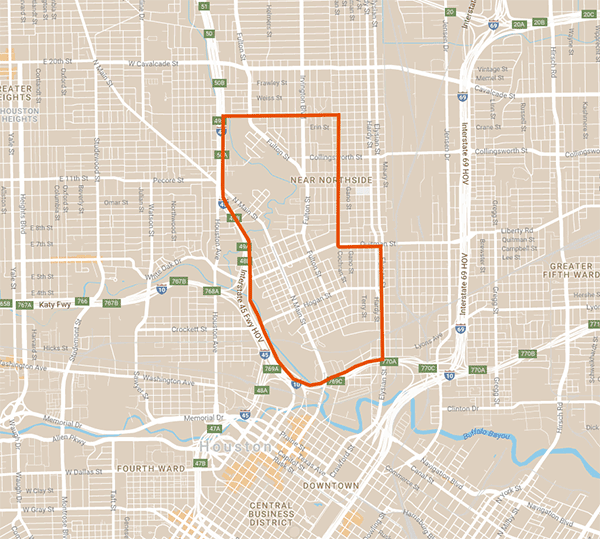 Click for a larger image.
Planning Meetings
Northside Community Workshop 1 Notes
Northside Advisory Committee Meeting 1 Notes
Northside Workshop 1 Presentation
Northside Advisory Committee Meeting 2 Presentation
Local Partners
Greater Northside Management District
Lead Consultant
Van Meter Williams Pollack