Study Summary and Goals
The Independence Heights/Northline Study provides analysis and recommendations for land use and infrastructure investments that create a more walkable, connected community with strong community hubs and great public spaces. Specifically, the study recommends:
Redeveloping the historic Burgess Hall as an anchor for the community.
Creating development guidelines that determine what can and cannot be constructed in the floodplain, and identifying key infrastructure in the floodplain that could be elevated.
Building greater connections throughout the neighborhood by encouraging transit-oriented development at the Northline Transit Center and creating new pedestrian connections underneath I-45.
Download the Independence Heights-Northline Livable Centers Study and the Independence Heights-Northline Projects.
Study Area Map
The study area is bounded approximately by Whitney Street and Lyerly Street to the north, I-610 to the south, Fulton Street and I-45 to the east, and Yale Boulevard and North Main Street to the west. The main areas of focus are the Independence Heights area west of I-45 and the Northline Commons area.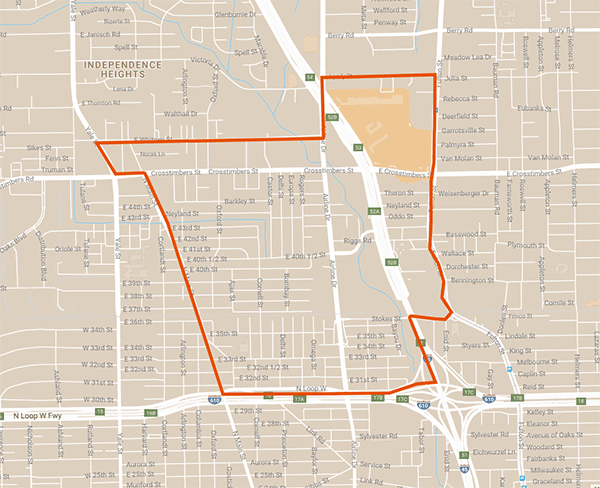 Click for a larger image.
Local Partners
Greater Northside Management District
Independence Heights Redevelopment Council
Northline Development
Lead Consultant
Design Workshop