Study Summary and Goals
The Westchase Study provides recommendations that guide future land use and transportation investments east of Beltway 8. Specifically, the recommends:
Creating a greater sense of place through the construction of a mixed-use pedestrian corridor, The Promenade, a new signature park for the District, mixed-use redevelopment of neighborhood retail, and transit-oriented development at the Gessner Park-and-Ride.
Building on the District's walkability by implementing a series of walkable loops along the street grid, activating the area's large setbacks, and creating new paths along the property lines of the many multi-family complexes.
Improving the District's bike network by connecting across the Beltway to Library Loop Trail and making links to Brays Bayou.
Developing new housing options while retaining the area's affordability.
Download the Westchase Management District Livable Centers Study.
Study Area Map
The focus of the Westchase Livable Center study is in the east portion of the Westchase District, from Rogerdale Road/Sam Houston Parkway to Gessner Road/Westerland Drive (west to east), and Westheimer Road/Ella Lee Lane to Westpark Tollway (north to south).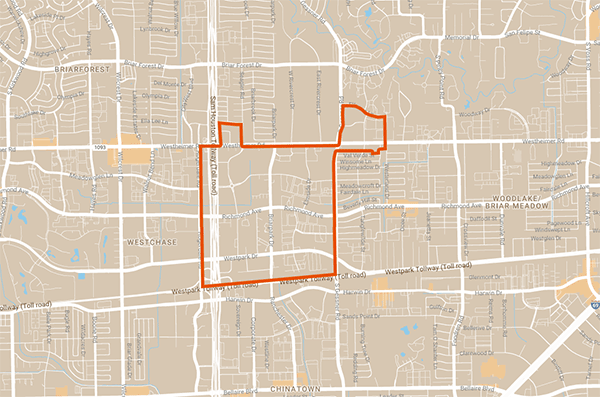 Click for a larger image.
Local Partners
Westchase Management District
Lead Consultant
Asakura Robinson Company