Study Summary and Goals
The Museum Park Study provides analysis and recommendations for land use and infrastructure investments that create a more walkable, connected neighborhood to serve the residents and visitors to the area's major regional destinations. Specifically, the study recommends:
Investing in pedestrian and bicycle connections in the neighborhood through a Culture Trail, streetscape improvements on Caroline Street, and linear greenspace that extends from the parks through the neighborhoods to create a green grid.
Developing plans for transit-oriented development around the Wheeler Transit Center and a park over US-59 to better connect Museum Park to Midtown and Downtown to the north.
Promoting the neighborhood's many destinations through a new marketing/branding campaign and an "Art of Walking" branding program that incorporates wayfinding and public art.
Download the Museum Park Livable Centers Study.
Study Area Map
The study area is generally bounded by Main Street, US- 59, Almeda Road, and Hermann Park in the City of Houston.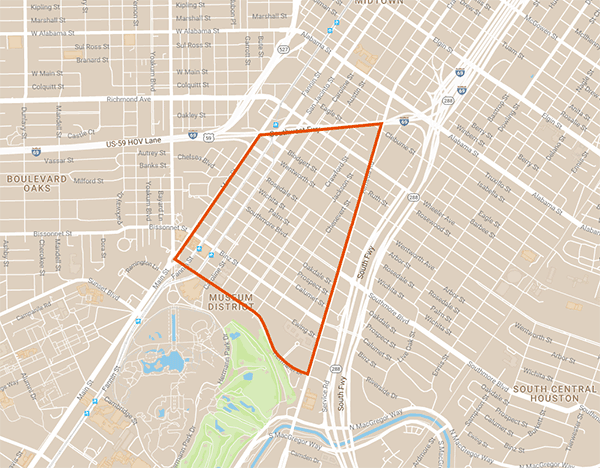 Local Partners
Museum Park Super Neighborhood
Houston Southeast
Lead Consultant
SWA Group