Study Summary and Goals
The Fifth Ward/Buffalo Bayou/East End Study provides analysis and recommendations for land use and infrastructure investments that create a more walkable, mixed-use and vibrant neighborhood while preserving the character and history of the community. Specifically, the study recommends:
Maintaining housing affordability by establishing a community land trust, extending the boundaries of TIRZ 18, and supporting programs that rehabilitate single-family homes.
Refurbishing and enhancing amenities in local parks and open spaces like the historic Evergreen Negro Cemetery, Finnigan Park, Japhet Creek Park, and the Harrisburg-Sunset Trail.
Redeveloping large industrial properties along Buffalo Bayou and creating connectivity for pedestrians and cyclists by improving bike infrastructure and building pedestrian bridges.
Download the Fifth Ward/Buffalo Bayou/East End Livable Centers Study or the Detailed Cost Estimates (Appendix V).
Study Area Map
The study area includes an area bounded by Capitol Street, York Street, Lyons Avenue, and Lockwood Drive in the City of Houston.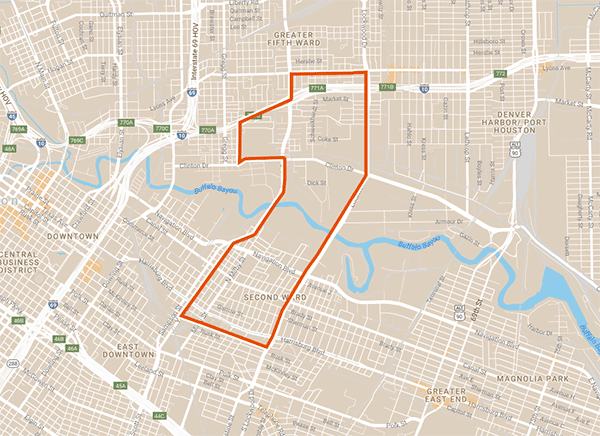 Click for a larger image.
Local Partners
Buffalo Bayou Partnership
Fifth Ward CRC (TIRZ 18)
Greater East End Management District
Lead Consultant
Asakura Robinson