Study Summary and Goals
The Energy Corridor Study provides analysis and recommendations for land use and infrastructure investments that create a more walkable, mixed-use and vibrant district that attracts and retains high-skilled employees from around the world. Specifically, the study recommends:
A new concept for the Addicks Park and Ride Lot that converts it into the heart of the Energy Corridor with a variety of uses and walkable streetscapes connected to existing neighborhoods.
Connecting the District with a north-south bridge that is friendly to bicyclists and pedestrians.
Integrating a series of new parks and bikeways that add amenities to the District and connect to George Bush Park, Cullen Park, and Bear Creek Park.
Download the Energy Corridor Livable Centers Study.
Study Area Map
Home to many of the region's energy-related corporations, the study area includes a portion of the Energy Corridor near the Addicks Park and Ride Lot along SH-6 between Grisby Road and Park Row Drive and along both sides of IH-10 from SH-6 to West Lake Boulevard in the City of Houston.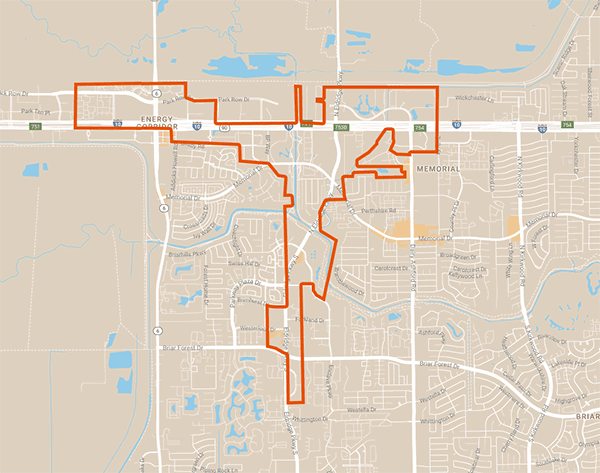 Click for a larger image.
Local Partners
Energy Corridor District
Lead Consultant
LRK, Inc.