Study Summary and Goals
Building on the momentum of the City of Alvin's comprehensive plan for downtown improvements, the Alvin Livable Center Study aims to create a walkable, transit-friendly community with enhanced access to employment opportunities, civic infrastructure, and amenities, and reduce the impacts of defined barriers to pedestrian and bicyclists. The goal of the Livable Centers study is to identify community and transportation improvements to help leverage private investments, attract residents and visitors, and improve the quality of life in the City's once thriving downtown.
The study will involve defining new, context-sensitive standards for the City of Alvin that foster multi-modal access and connectivity, a mix of land uses, diverse housing options, and a sense of place. The conceptual strategy and proposed catalyst projects of the study strive to reduce the reliance on single-occupancy vehicles, encourage walkability, increase connection within and between nodes of community activity, and facilitate built environment strategies that bolster local economic development and employment. This will include a strategy to help alleviate congestion and allow for better students and pedestrian connectivity near Alvin High School and Passmore Elementary School.
This initiative will result in a forward-looking vision, along with practical implementation strategies, that considers responsible stewardship of the City of Alvin's existing resources to best meet the community's needs.
Study Area Map
The Alvin Livable Centers Study is 13.18 square miles and contains Alvin's historic downtown that includes the Alvin Senior Center, Alvin Historical Museum, City Hall, and the Chamber of Commerce. The boundary includes a community garden, seven city parks, the Tom Blakeney Jr. Hike and Bike Trail, numerous businesses, and residential neighborhoods. The study area is bordered by Shirley Street to the East, Dickinson Road to the North, Dilling Street to the Northwest, 2nd Street to the West, Lobitt Street to the North, Davis Bend Road (CR 179) to the Southwest and Stadium Drive to the South.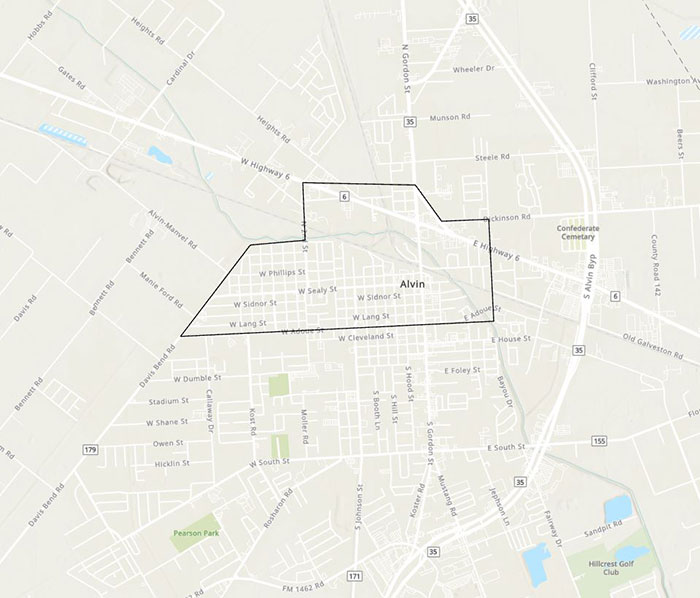 Click for a full size version of this map
Local Partners
City of Alvin
Lead Consultant
Kimley-Horn