H-GAC conducts water quality management planning as part of a Clean Water Act Section 604(b) grant program funded by the EPA through the Texas Commission on Environmental Quality. The Water Quality Management Plan Update, completed annually, describes a series of data collection, special study, and coordination activities completed through this project.
The purpose of these activities is to provide data and analysis regarding wastewater infrastructure, watershed planning, and sources of nonpoint source pollution that affect water quality in the Houston-Galveston region.
Water Quality Management Plan Updates
Each year water quality management planning activities are summarized in a cumulative report. The report is submitted for acceptance to the H-GAC Natural Resources Advisory Committee (NRAC) and Board of Directors.
FY2020 Final 604b Water Quality Management Plan Report
The FY20 Water Quality Management Plan was approved by H-GAC's Board of Directors on August 18, 2020.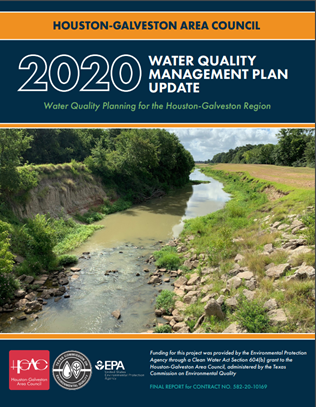 View the Final FY2020 Water Quality Management Plan
Past Water Quality Management Plan Reports
To view reports completed in recent years, click on a document below:
Please visit our publications page to view older Water Quality Management Plans.