Study Area
The study area for the Regional Aviation System Plan is the thirteen member counties of the Houston-Galveston Area Council (H-GAC), the regional planning agency of southeast Texas. The study area centers on Harris County, which is the most populous county in Texas. The other counties are Austin, Brazoria, Chambers, Colorado, Fort Bend, Galveston, Liberty, Matagorda, Montgomery, Waller, Walker and Wharton.
As shown on the map below, there are 154 airports in the Houston-Galveston region. Not all of the airports are available to the public; 108 are privately-owned and restricted to private use. The remaining 46 airports, including both publicly and privately-owned airports, are open for public use. The Regional Aviation System Plan considers a subset of these public-use airports in the region contributing significantly to public mobility for the region.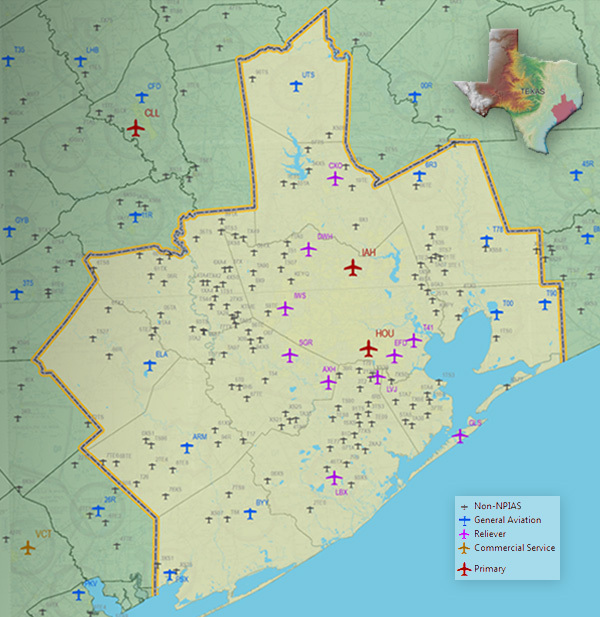 Airports in the H-GAC Region
Airspace
The Houston Terminal Radar Approach Control (TRACON) facility controls airspace encompassing the Houston metropolitan area. At its longest point, the airspace is 135 nautical miles across.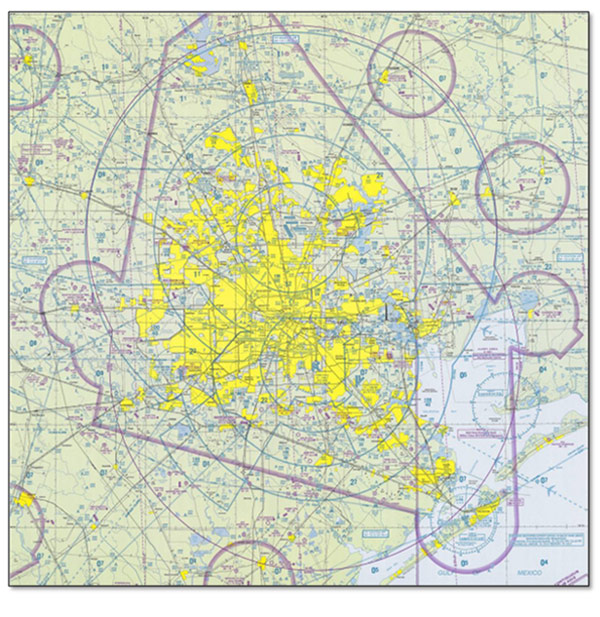 Houston TRACON
The Houston TRACON airspace extends vertically from the surface to 16,000 feet above mean sea level at its highest point. The Houston TRACON airspace also encompasses the airspace over 16 of the system airports. The Houston TRACON contains radar operations from which air traffic controllers direct aircraft during the departure, descent and approach phases of flight. The TRACON controllers direct aircraft transitioning from en route through approach into a destination airport in the TRACON's airspace. For the seven airports with air traffic control towers, the TRACON controllers then hand off the arrival to the tower when the aircraft is on final approach. The TRACON also controls aircraft transitioning after takeoff until the flight is en route. The departure controller in the TRACON directs the ascending aircraft immediately upon takeoff leading away from the departure airport.
The Houston TRACON jurisdiction is not the same as the Houston Class B airspace. Houston has a relatively simple Class B airspace, with the rings centered on the Very high frequency Omni-directional Radio (VOR) ranges at the two primary airports: the Humble VORTAC (Very high frequency Omni-directional Range Tactical Aircraft Control) at George Bush Intercontinental and the Hobby VORTAC. The Houston Class B airspace extends 30 nautical miles from the George Bush Intercontinental VORTAC and 20 nautical miles from the Hobby VORTAC.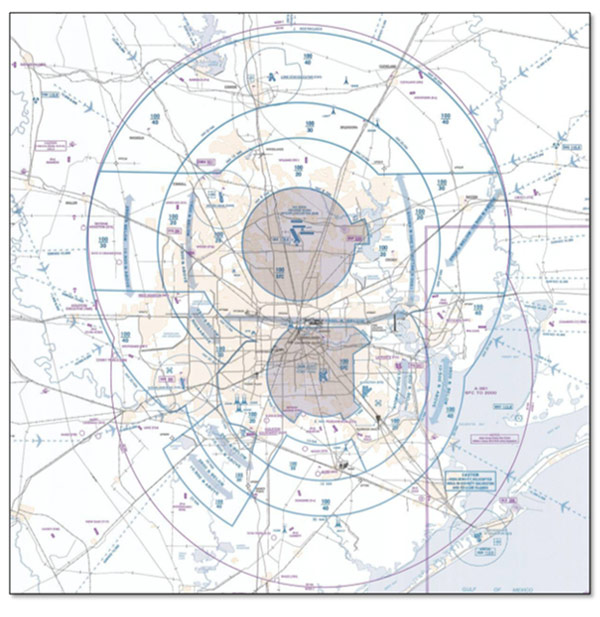 Houston Class B Airspace
The Houston Area Air Traffic System was expanded in September 2010, enlarging the airspace managed by the Houston TRACON by more than 30 percent. The Houston TRACON airspace now extends to the boundaries of the airspaces managed by Austin, Gray, Waco and San Antonio TRACONs.