Autonomous, or self-driving, vehicles will present economic and accessibility advantages that didn't exist before. Autonomous vehicles can reduce traffic delays, increase mobility options, and change how we work, purchase goods and services, and invest in major infrastructure projects. This change will bring challenges and opportunities.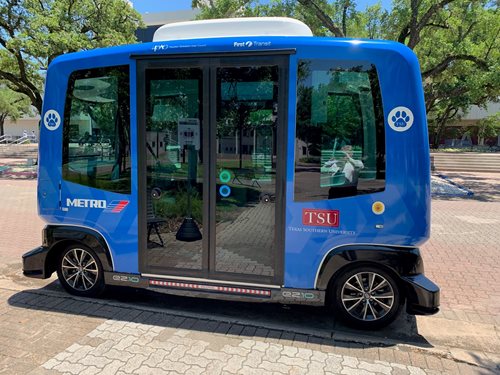 Automated vehicle operating on the campus of Texas Southern University in the summer of 2019.
Preparing for Autonomous Vehicles
These technological strides hint at significant benefits and opportunities that will result in changes to the region's character, necessitating a shift in short- and long-term planning efforts.
This requires growing cities, counties, and the Houston-Galveston Area Council to work together to lead the way in preparing the region for autonomous vehicles.
Quality of Life Benefits
Autonomous vehicles can significantly benefit users, reducing traffic congestion and roadway fatalities that result from driver error. Without the need for an engaged driver, individuals are free to pursue other activities while en route.
Vulnerable populations, such as the elderly and disabled, may particularly benefit from a technology that removes the need for specific abilities or skillsets to operate a vehicle, thus allowing those individuals greater freedom, autonomy, and employment options.
Future input from municipalities and advocacy groups will be necessary to ensure safety and certification requirements guiding autonomous vehicles serving vulnerable populations are met.
Pilot Project
The Metropolitan Transit Authority of Harris County, in partnership with Texas Southern University and the Houston-Galveston Area Council, recently operated an Automated Vehicle Pilot Project on the TSU campus. The demonstration project was designed to assess the physical and operational characteristics of an autonomous vehicle, including operation of the vehicle during inclement weather as well as battery capabilities in different climate conditions, and also to assess public perception of the autonomous vehicle.
The Metropolitan Transit Authority provided funding for vehicle acquisition and operations, while H-GAC provided funding support to conduct planning efforts, data collection and analysis by TSU's Center for Transportation Training and Research.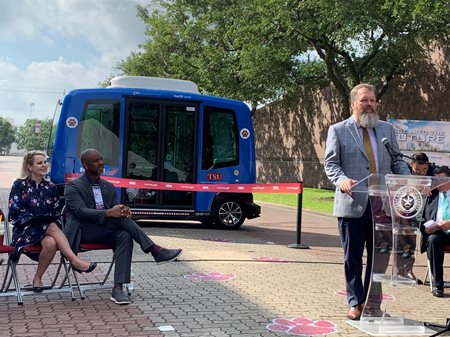 Pictured above is H-GAC's Executive Director, Chuck Wemple, speaking at the project's ribbon cutting ceremony on the Texas Southern University campus in June 2019.
The EasyMile Automated Vehicle operated along TSU's Tiger Walk between June 5, 2019 and February 25, 2020. During its operation, the vehicle provided almost 7,500 individual trips to TSU students, faculty, staff and campus visitors alike.
This project was a significant component of Texas' designation as an autonomous vehicle proving ground by the U.S. Department of Transportation in 2016, and one of only a handful of AVs on university campuses in the United States.
Lessons learned during the operation of the AV Pilot Project are applicable to future AV operations in the region, including a potential "Phase 2" extension of the shuttle to the METRO Purple Line light rail station and the UH campus.
Project Documents
Texas Southern University Automated Vehicle Final Report
Appendix A: Summary of Locations Considered for Vehicle Storage
Appendix B: Phase 1 Physical Planning and Phase 2 Operational Analysis
Appendix C: Automated Vehicle Battery Analysis Conducted by Idaho National Laboratories
Next Steps
The Houston-Galveston Area Council continues to work with regional entities to move forward. Plans include developing a Connected & Automated Vehicle Vision Statement and Strategic Plan.
Resources
Autonomous Vehicle Technology - Statistics & Facts
How Robots and Drones Will Change Retail Forever
Automation in Everyday Life
High-speed Broadband, Autonomous Vehicles and Small-Town and Rural Communities
Texas Legislature SB 2205
The Impact of Technology on Labor Markets
This is Who's Driving the Autonomous Car Revolution
Metro Board Gives Automated Vehicle Pilot Green Light
Texas Innovation Alliance
Automated Vehicles for Safety