H-GAC Celebrates 55 Years: Growing Stronger Together through Regionalism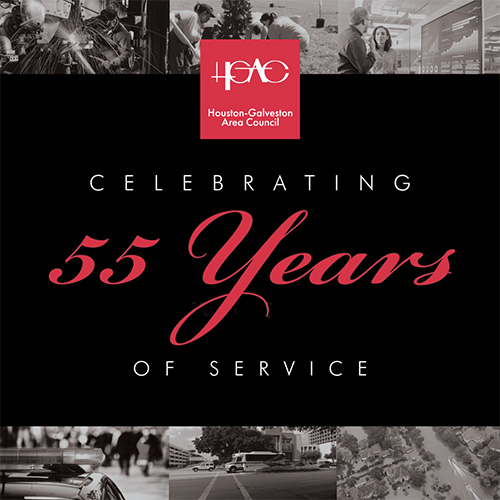 The Houston-Galveston Area Council (H-GAC) is one of the largest regional planning commissions in the country.
Since its inception in 1966, H-GAC has positioned itself as a driver of regional cooperation and service excellence by bringing together local governments, large and small, and community and business partners from a diverse array of backgrounds and proficiencies to solve major challenges, seize economic opportunities, and enhance the quality of life for the more than 7 million people who live here.
The 13-county Houston-Galveston region has experienced tremendous growth and prosperity over the past 55 years. Together, we look back on some of the key milestones that helped us get there as we move forward to the next 55 years of promise.
Symposium Recap
H-GAC commemorated its 55th anniversary as a special symposium on Oct. 15 at The Briar Club. The theme of the symposium was "Growing Stronger Together through Regionalism." Chuck Wemple, executive director of H-GAC, discussed with H-GAC board members and officers the strengths of regionalism and the evolution of technology in the 13-county H-GAC region during two panel discussions.
The event highlight was the afternoon keynote speech by Renu Khator, chancellor of the University of Houston System and president of the University of Houston, where she championed collaboration and cooperation with local leaders, fellow postsecondary education institutions, community organizations, and businesses to provide exceptional, accessible education and research that will drive innovation, prosperity, and quality of life for our more than 7 million residents and growing.