Due to high fecal bacteria levels, portions of the San Bernard River have been designated unsuitable for recreational activities, such as swimming. In addition, excessive nutrients and low dissolved oxygen levels have also been found which may negatively affect fish and other aquatic life. To protect water quality and reduce fecal bacteria levels in the project area, local stakeholders and H-GAC staff worked together to develop the watershed protection plan.This project was funded by a grant from the Texas Commission for Environmental Quality (TCEQ) and the U.S. Environmental Protection Agency (EPA) under the American Recovery and Reinvestment Act (ARRA). H-GAC worked with community stakeholders to develop the plan.
What is a Watershed Protection Plan?
A watershed is an area of land that drains to a common waterway, such as a stream, river, or ocean. Watershed protection plans provide a framework to restore and protect water quality in areas affected by run-off pollution. The plan outlines Best Management Practices (BMPs) that address issues in the watershed and offers a guide for local governments to manage the impacts of future growth on water quality, health risks and ecological resources.
How a Watershed Protection Plan Works
A watershed protection plan is designed to give water quality managers the tools needed to help make decisions to maintain or improve water quality within the region by:
providing a basis for a largely rural watershed to prepare for anticipated growth and urbanization
helping local governments incorporate appropriate BMPs in their jurisdictions, ensuring that resources are not wasted on BMPs that will not work for their area
analyzing run-off pollution problems with geographic information systems (GIS) to strengthen watershed modeling efforts
Approved Watershed Protection Plan
In 2017, the WPP was approved by the Texas Commission on Environmental Quality and accepted by the U.S. Environmental Protection Agency. View a copy of the San Bernard Watershed Protection Plan.
Comments
Please direct comments to Justin Bower at [email protected] or 713-499-6653.
Links
San Bernard Watershed Signs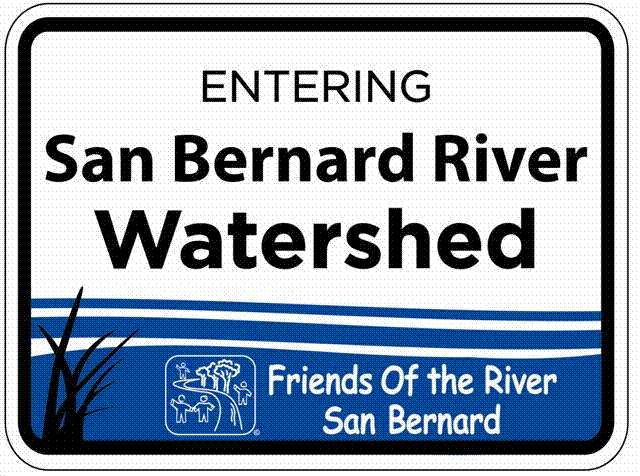 Sponsored by the Texas Clean Rivers Program, 15 signs have been installed around the border of the San Bernard River watershed to increase awareness of one of our local watersheds. All too often we pass our rivers, lakes, and bayous without realizing how they are connected to other bodies of water. These signs help people to 'get to know' their watersheds.
The signs were designed in coordination with the Friends of the River - San Bernard organization, whose mission is to restore, protect, promote and ensure a clean, healthy, flowing San Bernard River.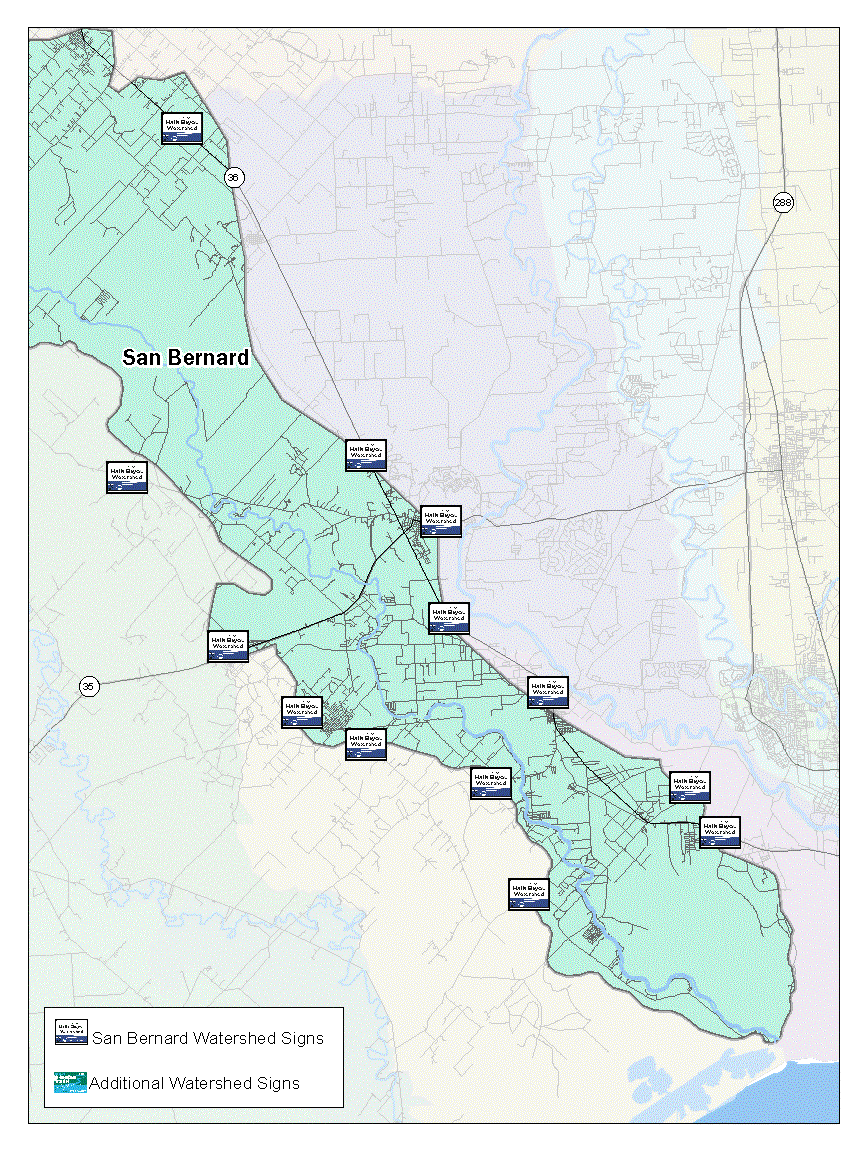 Map of the locations of the San Bernard River watershed signs.