H-GAC has an array of educational and outreach materials focusing on behavioral changes residents can make to help reduce water pollution. These materials are available for loan to governments and organizations in our region for use at events. All materials come with instructions and talking points.
Please contact us to talk about how the H-GAC outreach materials loan program can work for you.
Enviroscape Watershed Portable Models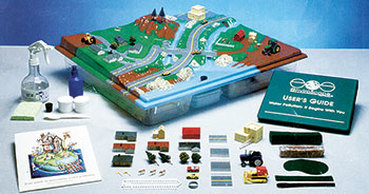 H-GAC has three Enviroscape Watershed/Nonpoint Source Models available for loan for events and workshops.
The EnviroScape® series of portable models dramatically demonstrate water pollution concepts and their prevention. EnviroScape® effectively communicates our shared responsibility for the environment to people of all ages, languages and cultures. Our models are engaging and effective, as they create a real sense of understanding through experience and hands-on demonstration. EnviroScape® makes complex issues seem simple, helping people prevent water pollution in their own communities.
The three-dimensional landscapes (approx. 25" x 30" x 5") illustrate residential, recreational, agricultural, industrial and transportation areas — all representing possible sources of water pollution. Children and adults learn by using chemicals (drink mix) and loose soil (cocoa) throughout a typical community to see how their actions and those of others may affect our water quality. EnviroScape actually emphasizes pollution prevention with a follow-up demonstration that shows how to prevent such pollution through the use of best management practices.