Federal legislation introduced Transportation Performance Management to address challenges facing the transportation system. As a Metropolitan Planning Organization for the greater Houston area, H-GAC sets targets and is reporting on the progress towards targets. H-GAC has the responsibility for these federal performance measures in a variety of key performance areas.
Key Performance Areas
Safety
Goals to reduce fatalities and serious injuries for vehicles, pedestrians and bicyclists.
Pavement & Bridges
Maintaining good condition is critical to safety, the movement of goods and people and economic development.
Reliability
Making travel more reliable for personal travel and trucks moving freight.
Congestion
Assess and measure hours of peak hour excessive delay and plan for an increase in multi-occupant vehicle use or ridesharing to reduce congestion.
Air Quality
The goal is to reduce tailpipe emissions by funding CMAQ-eligible projects, resulting in better air quality for the region.
Transit Asset Management
Preserving the conditions of public transportation vehicles and facilities for moving to a State of Good Repair is a priority. Ultimately, these assets support a multi-modal network that the region can depend on.
The Process for Measuring Performance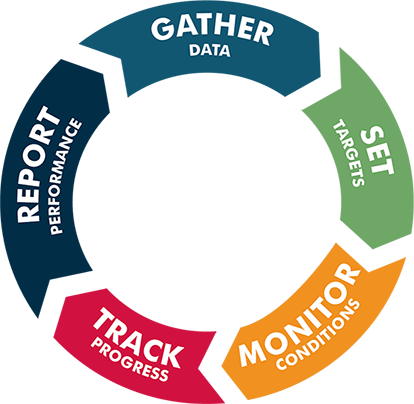 H-GAC gathers data of current conditions, formulates a quantitative forecast, sets targets for improving the performance of the transportation system, then, over time, monitors the conditions and reports if the goals were reached.
Performance management is a powerful analytical tool for tracking regional performance over time and can illustrate how we are meeting the regional goals for improved performance of the transportation system.
Performance measurement is not a new concept to H-GAC. Many of the federal performance measures align and compliment H-GAC's existing performance measures found in the Regional Mobility Report.