Watershed-based plans can be categorized into different plan types based on the impairments or concerns of the specific watershed.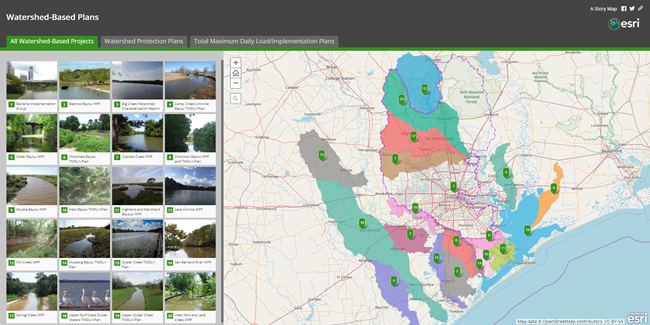 View Interactive Story Map
Watershed Protection Plan
A watershed protection plan (WPP) is a voluntary, locally-led approach to address state water quality standard (SWQS) impairments along with other water related concerns.
TCEQ Watershed Action Planning
Total Maximum Daily Load Plan
An alternative approach to assessing water quality within a waterbody is a Total Maximum Daily Load (TMDL) plan. A TMDL is a regulatory process triggered by impairments in a specific stream segment or segments that calculates the maximum amount of a pollutant that a waterbody can receive and still meet water quality standards.
Furthermore, a TMDL ultimately results in an Implementation Plan (I-Plan), which is a formalized, written plan developed by stakeholders to address specific concerns (e.g., bacteria) and contain policy recommendations to bring waterbodies back into compliance.
To address bacteria impairments at a broader scale, H-GAC leads three major projects: the Basin 11 Leadership Forum, Basin 13 Leadership Forum, and the Bacteria Implementation Group. These projects have developed partnerships with local governments and community organizations to better understand the sources of bacteria and coordinate effective solutions.