May is National Bike Month! It's time to dust off that nifty bicycle in your garage and ride it to an event in your community. The Houston-Galveston region is vast, and events are happening in almost every corner to celebrate bicycling. This web page will provide you with basic how-to information on hosting or participating in bike events across the region.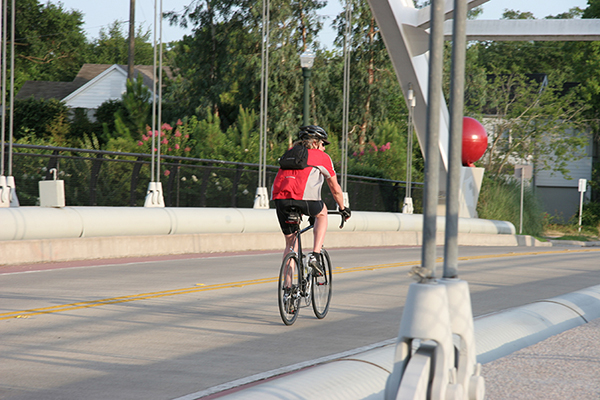 When is Bike to Work Day?
National Bike to Work Week is May 17 - 21, 2021, and the week closes out, celebrating Bike to Work/Wherever on Friday, May 21, 2021. Some organizations choose a different day that week that works best for their residents or employees. Bike to Wherever Day came to be as bike commuters and businesses had to pivot activities during COVID-19.
Why bike to work?
As our population and congestion increase, finding alternative ways to get to work is critical for our region. In the Houston-Galveston region, 25 percent of people live within 5 miles of their workplaces, an ideal distance for bicycling.
By bicycling to work, you will benefit from better health! Adults who regularly bicycle have a reduced risk of heart disease, diabetes, cancer, and obesity.
Commuting to work represents a small percentage of all trips that we take. Bike Month is an excellent opportunity to explore biking to other destinations like coffee shops, restaurants, libraries, schools and visiting your friends and family members. Why not bike there? It's easier than you think. You can even bike part of the way, for instance, to your local transit station or park and ride.
How many people bike to work?
According to the American Community Survey, over 51,000 residents in the Houston-Galveston region bicycle or walk to work. In certain areas within our region, the percentage of people who bike to work exceeds 5% (while our regional average is 0.6%). Visit our Interactive Web Applications to find information about your neighborhood (recommended apps to check out – Historical Commuting Patterns, Activity-Connectivity Explorer, and the Demographic Data Explorer).